PREGNANCY CHECKS
If you have had a positive pregnancy test please phone us or call into the surgery to register the pregnancy with the practice. You need to complete Pregnancy Registration Form, which will be collected by the Midwifery team. Form is available in our Surgery or you can fill in online here.
The Midwifery Team are based at Cossham Birth centre on 0117 340 8470, they like to see patient between 8-10 week for the booking appointment and then continue to look after you throughout your pregnancy.
However sometimes due to workload, this may occasionally be exceeded.
The Department of Health advise:
Women should take folic acid before pregnancy and for the first 12 weeks of pregnancy to reduce the risk of spinal deformities (called Spina Bifida). You can buy it in the pharmacy.
If you smoke – it is important to STOP SMOKING during pregnancy as it increases the risk of having a miscarriage, premature birth or a low birth weight baby. To get advise how to stop smoking please click here
If you are unsure about continuing your pregnancy, please:
---
[email protected] Smart phone app
The App is designed to support you to make informed choices about your care in pregnancy and where you would like to give birth and will replace paper Patient Information Leaflets from a number of different sources. However, if you need to receive paper copies of the information as you do not have access to the App please speak to your midwife who will print out copies of the information for you.
Funded by Southmead Hospital Charity the App offers a range of information about pregnancy, labour and birth, including:
Information that would have traditionally been provided via paper Patient Information Leaflets e.g. booking information, Antenatal & Newborn screening, care options for labour and birth, monitoring your baby's fetal movements, Pregnancy complications, Infant feeding, etc.
information about options for place of birth, including home, Cossham Birth Centre, Mendip Birth Centre and Central Delivery Suite with virtual tours of each
Maternity Unit contact details and web links to various support groups
A handy notes section to enable you to make a note of questions you may wish to ask at your next appointment with your Midwife or Obstetrician.
The [email protected] smartphone App is now available and can be downloaded for free for iOS or Android.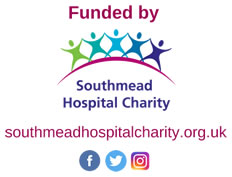 ---
Useful resources:
Antenatal checks on NHS website:
www.nhs.uk/conditions/pregnancy-and-baby/antenatal-care-checks-tests/
NHS Pregnancy and baby guide (online)
www.nhs.uk/conditions/pregnancy-and-baby
Screening tests pdf leaflet:
Screening tests leaflet.pdf
The Pregnancy Book
Pregnancy book.pdf
North Bristol Trust centralised Maternity Booking Office
www.nbt.nhs.uk/anb